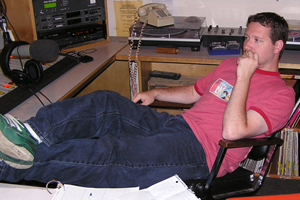 As you go through the site you will no doubt realize that I have a great many varied interests.  I dabble in a lot of things, sometimes too many at a time, and it was hard for me for a while to pinpoint what it was I wanted to focus on.  As it turns out, I saw no reason I couldn't focus on all of them.
I grew up with a relatively artistic family. My paternal grandmother did oil paintings and was musically inclined and her husband was a machinist his whole life, creating things out of metal which also was passed to my uncle.  My mom and her brother did pencil drawings and their father was a carpenter, good with his hands when it came to woodworking and concrete.  I didn't really get started on art until I discovered the Teenage Mutant Ninja Turtles cartoon in the late 80's and started reading comic books. I did pencil drawings for years, doodling in classes rather than paying attention, and in high school took a mixed arts classes that incorporated other mediums such as airbrush. I realized that my artistic interests were so varied and I liked doing art so much in any medium, that I played with everything I could get my hands on.
I've also always been very interested in film. Originally I wanted to be a stuntman, which I would practice (and scare the hell out of my mom) by doing swan dives off the couch before Kindergarten. I later moved into acting and after high school started becoming interested in the production and direction aspects, making sure I took classes on those subjects whenever I wasn't pursuing a multimedia and design degree. It wasn't until the independent film Face Eater that I really got to flex almost all of my creative muscles at once, using my skills to handle many, many areas of the film's post-production.
My mom also instilled in me a healthy love of books and writing and I spent many a day writing short stories (most of which now make little sense).  I wrote a "novel" when I was in my mid- to late-teens (which is probably all of 150 pages if actually done with normal font and spacing) and later move that writing into other aspects like comic book and film/TV scripting.
Video games also held a large part of my interest ever since I got my first NES system as a young man.  Later down the road I started playing with programs like RPG Maker or The Games Factory and trying to build my own.  I played with some programming and for a short time was a freelance website designer and coder.  My "day job" is also in IT, specifically in the area of Quality Assurance.
I have essentially spent the last 20 years becoming a jack of all trades type; not able to stick with just one interest, steadily honing my skills in the areas I know and constantly experimenting with things I don't.  I made the DVD for the independent film Face Eater that I mentioned earlier; something I have never tried but was able to pick up on quickly enough that I had a working prototype in under 2 days. Another project will be the Mega Man diorama, which will be a project that will combine design, painting, woodworking and metalworking, electronics, and just about all of the skill I can muster. Whether it's writing or drawing, painting or filming, editing, recording, it doesn't matter to me as long as I'm creating. That's what really gets me going.