Grand Uber DVD (Post 1)
on
January 17, 2013
at
6:00 am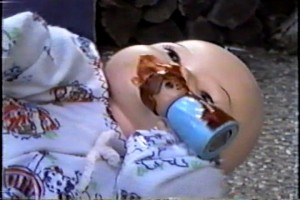 The Grand Uber DVD was named that because back when I asked Ben to take all of the original VHS tapes and send me copies, he actually made one copy and simply wrote "Josh's Grand Uber Tape" on the side.  It was pretty much as soon as I got it that I started to hatch the scheme for making this DVD (now literally more than 10 years later).  The DVD includes such classics as: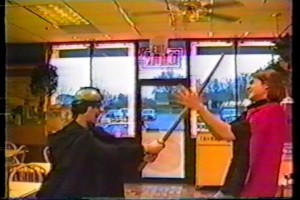 The Attack of the 50-Foot Baby
 King Arthur
 Cuentos Impopulares Dionisio Americanos
 El Ultimo Pollo McNugget
 Jurassic Park 2 1/2
 Prince of Judgment
 Magneto Parte Dos
 Chofo el Poderoso
 The Clinton/Gore Campaign Video
In addition to the movies, the DVD also includes extras and the Shorts which are short movies we made, mostly at 3 AM in Ben's basement, and have less story and were mostly made up on the spot.  That list includes:
I Love Working
 MNUUUH…
 Steffan, Queen of the Desert
 Drugs!
 Ladies and Gentlemen…the Circus!
 Our Rap
 Grandpa's Family Video
 The Gay Porn (not actually a gay porn)
 The Super Slim 9000
 Jesus: The Early Years
 America's Most Sadistic Home Videos
The Dubbed-Over Movie (Original)
 The Dubbed-Over Movie Redux
 Adventures of the Ostrich Riding Knight
 Alf's Rampage
 The Cave-In
 Music Video #1
 Music Video #2
 Instances of Randomness 1-4
All of these movies clock in at a run time of almost 4 hours and we recorded commentary for all of them.  Round 2 came when Ben brought the original tapes to the commentary recording so that I could record better quality versions of the movies and as I did so, lo and behold, I found items that were not on the original Grand Uber Tape.  They have also been ripped to the computer and I'm in the process of integrating them into the original sets of movies and shorts.  Stay tuned for the update!