K&J 15th Anniversary Book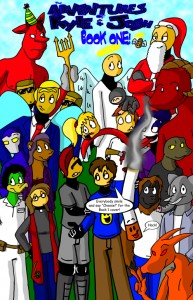 The Adventures of Kyle and Josh Anniversary Collection: 15 Years of Obscurity!
Back in 2007 I printed and released a limited-edition collected works of the first 4 issues of The Adventures of Kyle and Josh along with a little bit of filler stuff and a whole load of extras.  At the time the idea was that Steff was going to start up K&J again and that there would eventually be a Book Two and so on.  However those days have come to an end and while Kyle and Josh will be starting again in a new format and a new direction, I also realized that next spring (2013) marks the 15th anniversary of the creation of The Adventures of Kyle and Josh.
In order to celebrate that fact, I originally thought about re-releasing Book 1 but instead decided to do something a little more grandiose and make a collection of literally everything related to Kyle and Josh that has been done up to this point.  It will include all incarnations of the comic:
The original sketched storyboards of issues that never came to light
The original computer versions of issues 1 and 2
4 different hand-drawn versions
A pencil-shaded version
The version where I tried to do short strips instead of pages and issues
The full run with Steff Krus at the artistic helm
Other attempts at the book with other artists through the years
Commentary on every single comic page
Many, many, many pages of extras
In addition to that there will also be all of the K&J-related filler comics, additional comics, pages of sketches and merchandise designs, screenshots of attempted video game adaptations, and more commentary than even I ever thought possible to have in a book like this (example to the right).  My estimation is somewhere in the neighborhood of 400 pages.  It may or may not be hardcover, may or may not have additional notes by friends and other comic artists, and may or may not come with some extra shwag but my main focus is to have the book itself completed in time for it's actual anniversary: Spring of 2013.